Dragon Princess Anya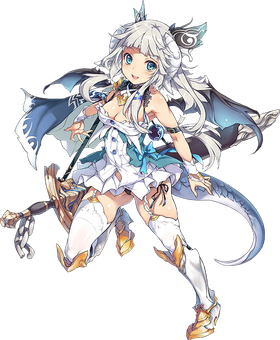 Dragon Princess Anya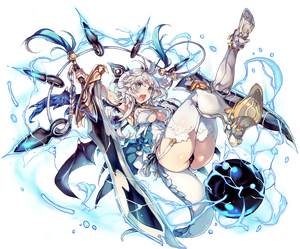 竜姫アーニャ
Ryuu Hime Ānya

Art: わざきた
(Coloring collaboration: 触手さん)
Character Profile, Volume 1

Height: 150cm / B:80 W:57 H:80

Though the princess of the Ryujin, Anya's considerable power was feared for being too strong, and she had the misfortune of having her body and mental faculties sealed away since childhood. Anya is Sealed Dorania's true form. With Holy Blade Ascalon, a blade that was forged by the dragonkind, she can take any attack. She was released from her seal by the Prince's hands, and presently she is enjoying her freedom to its fullest. When she has the time to spare, she courts the Princes so she can make a new future for the Ryujin with humans.
竜人の姫だが、あまりにも強すぎる力を恐れられ、幼少の頃から姿も知能も封印されてきた不遇の少女。封印されしドラニアの本当の姿である。竜人の鍛えし聖剣アスカロンでどんな攻撃も受け止める。王子の手で封印から解き放たれ、現在は自由を満喫中。竜人と人との新たな未来をつくるため、暇さえあれば王子に求愛している。
Dragon Princess Anya is a black female dragon princess.
Like with other princesses, her attacks can ignore enemy defense.
Obtained by Class Changing Sealed Dorania from the Ryujin Invasion event with units from the Return of the Dragon Princess event.
Name & Effect (edit info)
Holy Sword
Ascalon
For X seconds, non-magical
damage received is reduced
by 50%.
Units with Same Skill

(hover)
Melee
Ranged

☆

Pre
CC

Post
CC

No
Change

Anya
6☆
| Lv | X | Reuse |
| --- | --- | --- |
| 1 | 30 | 89 |
| 2 | 33 | 88 |
| 3 | 35 | 87 |
| 4 | 38 | 86 |
| 5 | 40 | 85 |
Notes
Only affects self.
Applied after defense.
Only reduces physical damage.
Skill Awakening
Edit
Unit
Skill
Effect
Reuse
Initial

Anya
Normal
Holy Sword Ascalon
For 40 seconds, non-magical damage received is reduced by 50%.
85
1
Awakened
Shining Sword Claiomh Solais
For 40 seconds, attack increases by 2.0x.
Attack all nearby ground enemies simultaneously (range 120).
50
5
Ability Name
Effect
Units
Notes

True Dragon's Scales
(edit info)
Magic Resistance +20

Boosted stats already displayed in unit's status.
Class Attributes
Edit
Class Name (edit info)
Traits/Effects
Notes
Dragon Warrior
Full power has been sealed away.
Power will not decrease in Makai.
Dragon Princess

Blocks 2 enemies and can ignore enemy defense.
Power will not decrease in Makai.


Considered a magic attack in damage calculation.
Enemies with Magic Resist will take reduced damage.

True Dragon Warrior

Blocks 2 enemies and can ignore enemy defense.


Can attack all blocked enemies.
Power will not decrease in Makai.
Affection
Edit
Quotes - highlight the pink lines to see them.
Edit
0%
So I'm finally free! Thank you, Prince...!
15%
There's no longer a need for our races to fight, then?
30%
We'll repay our obligation by giving our all for you!
50%
You had me by your side when I was at my worst.
60%
Now we'll have a world where we can coexist.
80%
I'll bear your child, and that child will be a go-between.
100%
I've made up my mind! So don't run away, Prince!
Adjutant
I've been waiting for you, Prince! What are your plans for today?
| | |
| --- | --- |
| 30% | (Virgin) Missionary Position |
| 100% | Dominant Cowgirl |
Awakening Materials
Edit
Required units (edit info)

Fairy

AW

Material 1
Material 2
Material 3
| (edit info) | Money | Orbs |
| --- | --- | --- |
| Black | 300,000G | 3 x Rune Fencer orb & 3 x Battle Master orb |
According to legend St. George killed a dragon with a sword/lance, it is unsure which, and that weapon was called Ascalon. The name was derived from the city of Ashkelon - now part of Israel.
Wikipedia
Claíomh Solais, rendered "Sword of Light", or "Shining Sword", or "a white glaive of light", is a trope object that appears in a number of Irish and Scottish Gaelic folktales.
Wikipedia
Ad blocker interference detected!
Wikia is a free-to-use site that makes money from advertising. We have a modified experience for viewers using ad blockers

Wikia is not accessible if you've made further modifications. Remove the custom ad blocker rule(s) and the page will load as expected.