Spirit of War Cynthia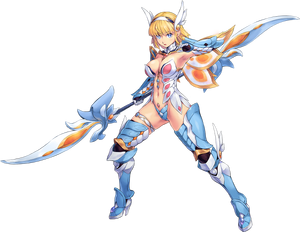 Spirit of War Cynthia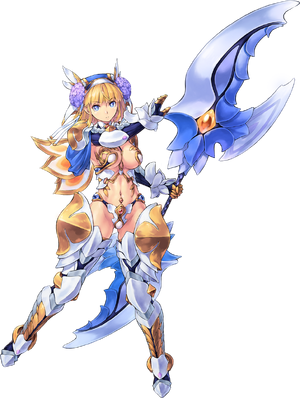 戦の聖霊シンシア
Ikusa no Seirei Shinshia

Art: 内有一馬
Spirit of War Cynthia is a black spirit of war.
A unit that utilizes the skill Holy Awakening, Cynthia's base stats are quite low to compensate for the doubling effect. Her Magic Resistance, however, is nearly the highest among currently available units at 40. Cynthia's ability, Spirit Boost, increases the attack and defense of all melee units, in addition to their deployment cost. Because of this, she is best placed either late or last in a setup, in order to maximize the benefits and minimize the detriments.
Obtained from:
Name & Effect (edit info)
Holy
Awakening
For X seconds, attack
and defense increase by 2.0x.
Units with Same Skill

(hover)
Melee
Ranged

☆

Pre
CC

Post
CC

No
Change

Maribel
Emilia
5☆

Cynthia
6☆
| Lv | X | Reuse |
| --- | --- | --- |
| 1 | 10 | 29 |
| 2 | 18 | 28 |
| 3 | 25 | 27 |
| 4 | 33 | 26 |
| 5 | 40 | 25 |
Skill Awakening
Edit
Unit
Skill
Effect
Reuse
Initial

Cynthia
Normal
Holy Awakening
For 40 seconds, attack and defense increase by 2.0x.
25
1
Awakened
Toughness Charge
Maximum HP permanently increases by 1.7x. After use, skill changes to Holy Awakening.
55
5
Ability Name
Effect
Units
Notes

Spirit Boost
(edit info)
While deployed, all melee units gain 10% attack and defense, and cost +5.

Does not stack with other Abilities of the same name.

Spirit Boost II
While deployed, all melee units gain 13% attack and defense, and cost +5.

Does not stack with other Abilities of the same name.
Should both this version and the pre-AW version be present, this one will take precedence.
Class Attributes
Edit
Class Name (edit info)
Traits/Effects
Notes
Spirit of War

Can attack all blocked enemies

Great Spirit of War
Affection
Edit
Quotes - highlight the pink lines to see them.
Edit
0%
Spirit of War Cynthia, greets you here and now! Just kidding.
15%
Do you understand the meaning behind a title that starts with 'war'?
30%
Such a large spirit... isn't cute... right?
50%
I've gotten even more muscular... haah... Nina and the others sure are lucky.
60%
M-my wings are small... and cute, you say? Ehehe.
80%
Prince, will you rub my head sometime?
100%
I won't hesitate anymore! I'll show my significance with this body!
Adjutant
I'll risk my life to protect you, Prince! Your instructions, please!
| | |
| --- | --- |
| 30% | Nude, arguing in bath with other spirits |
| 100% | Nude, missionary |
Awakening Materials
Edit
Required units (edit info)

Fairy

AW

Material 1
Material 2
Material 3
| (edit info) | Money | Orbs |
| --- | --- | --- |
| Black | 300,000G | 3 x Soldier Chief orb & 3 x Battle Master orb |
Ad blocker interference detected!
Wikia is a free-to-use site that makes money from advertising. We have a modified experience for viewers using ad blockers

Wikia is not accessible if you've made further modifications. Remove the custom ad blocker rule(s) and the page will load as expected.