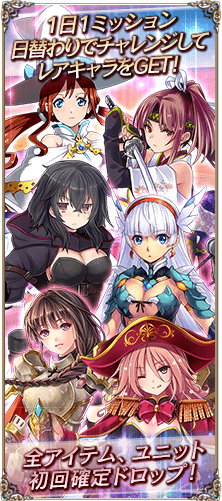 Repeat of old events, specifically for Unit Farm types. Every event lasts for 1 day, and they are rotated out on a fixed schedule. New Unit Farm events are added to the rotation approximately once every month.
In order to gain access to Daily Revivals, story mission Citadel Battle (砦の戦い) must be cleared first.
First time 3☆ clear awards SC.
First time drops are guaranteed.
Daily Revivals inherit the clear % of events in the past.
SC for 3☆ is not awarded if it was received before.
If the drops were obtained in the past, first time drops are not guaranteed.
Daily Revival rotates at 15:00 UTC+0.
Event rotation follows the schedule listed below.
List below contains candidate events to be implemented into Daily Revivals. Usually, 1 new event is added at the end of each rotation.
Silver Unit Farming List
Edit
External Links
Edit
Ad blocker interference detected!
Wikia is a free-to-use site that makes money from advertising. We have a modified experience for viewers using ad blockers

Wikia is not accessible if you've made further modifications. Remove the custom ad blocker rule(s) and the page will load as expected.