Dextrous Soldier Hashim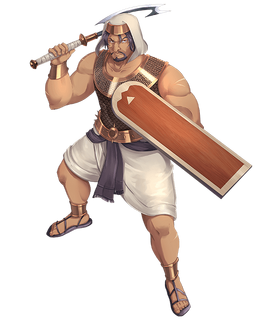 熟練兵ハシム
Jyukuren Hei Hashimu

Art: Sally
Dextrous Soldier Hashim is a bronze soldier.
Rarity
Icon
Class
Initial
HP
ATK
DEF

MR

Block
Cost

AFF Bonus

Skill
Ability
Faction
Max
Range
Max
Min
Bronze


Junior
Soldier
Lv1
727
160
103
0

2

6
4
N/A
N/A
Veteran's
Teachings
Lv40
968
229
143


N/A
Ability Name
Effect
Units
Notes

Veteran's Teachings
(edit info)
During unit combination, the same-class-bonus will be added to the EXP gained, regardless of the classes involved.

Bronze fodder grants an additional 30 EXP to units of the same class.
Class Attributes
Edit
Class Name (edit info)
Traits/Effects
Notes
Junior Soldier
Can block up to 2 enemies.
Soldier
Soldier Chief

Can block up to 3 enemies.
Elite Soldier
Commander

Can block up to 3 enemies.
While deployed, all units gain 3% attack and defense, and 3 MR.


Cost -2.
Small ATK/DEF increase.
Multiple instances of the 3% buff WILL NOT stack.

Warrior

Can block up to 3 enemies.
Each of the following has a 20% chance of occuring:

Attack again with no delay.
Nullify enemy attack.

Ad blocker interference detected!
Wikia is a free-to-use site that makes money from advertising. We have a modified experience for viewers using ad blockers

Wikia is not accessible if you've made further modifications. Remove the custom ad blocker rule(s) and the page will load as expected.