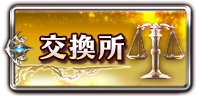 The Trading Post (交換所) is one of the institutions available from the main menu.
Here, players can exchange a number of currencies for a variety of units. The units purchasable with Demon Crystals, save for the spirits, cycle through in certain time intervals. All units obtained here begin at lv1.
Several of the items purchasable via Rainbow Crystals (namely - Fleur, Musica, and the Legend Ticket), can only be purchased 3 times per month. In addition, the second and third purchases for that month increase in price.
Crystals
Edit
Type
Main Method(s) of Obtaining
Notes

Demon Crystals (DC)

Time Crystals (TC)

Event drops for non-farm revivals

Time Crystals will be retained after the revival ends, and may be used in future revivals. Purchases are discounted if the player already has a copy of the unit, (but no discount if the unit was since discharged or otherwise lost). Costs vary depending on the original event type (see chart below).
 
AKA - Revival Crystals, Moment Crystals


Rainbow Crystals (RC)

Discharging units of Gold+ rarity
Premium Summoning

Discharging: The amount received varies by rarity and how said unit is obtained. See chart below.
Summoning: Summoning a Silver unit grants 20 RC, while summoning a Gold+ unit grants 10.
Rarity
Rainbow Crystals
Time Crystals
Shrine Units
Other Units
Item Collection Units
Star Rush Units
Gold
20
1
-
70
(

50

)
Platinum
100
3
150
(

100

)
100
(

50

)
Black
400
15
250
(

150

)
200
(

100

)
Current Content
Edit
Currency
Price
Unit
Date Added
End Date
RC
1000

Dark Knight
2015/11/19
-
1000

Spirit of War Cynthia
2016/03/03
-
400

Imperial Strategist Leona
2016/04/07
-
400

Darkness User Gretel
2016/06/30
-
400

Fallen Angel Phonia
2018/01/25
-
100

Anna (Waitress)
2017/01/26
-
20

Spirit of Eternal Darkness Onyx
2016/10/27
-
1000


2000




3000

Spirit of Time Fleur
2016/12/01
-
500


1000




1500

Legend Summon Ticket
2016/12/01
-
150


300




450

Great Spirit of Skill Strengthening
Musica
2016/12/01
-
DC
300

Ninja Saki
2016/01/21
-
200

Flash Gunner Janna
2018/07/05
2018/08/02
200

Sailor Viera
2018/07/05
2018/08/02
70

Dragon Knight Abel
2018/07/05
2018/08/02
70

Dwarven Magic Armor Soldier Raichi
2018/07/05
2018/08/02
100

Spirit of Awakening Victoire
2014/06/10
-
80

Spirit of Black Florika
2014/01/29
-
70

Spirit of Platinum Celia
2014/01/29
-
20

Spirit of Gold Nina
2014/01/29
-
TC
100
(

50

)

Youkai Slaying Sniper Aoba
2018/07/03
2018/07/10
100
(

50

)

Orc Swordswoman Doula
2018/07/09
2018/07/16
200
(

100

)

White Emperor
2017/03/09
-
Gold+Silver Unit
100,000G
Silver Ninja

Martial Artist Dan
2015/03/19
100,000G
Silver Mage

Magic Fencer Ricardo
2015/03/19
-
100,000G
Silver Valkyrie

Fallen Angel Niel
2015/03/19
-
100,000G
Silver Healer

Priestess Warrior Ertel
2015/03/19
-
100,000G
Silver Witch

Vampire Hunter Khuri
2015/03/19
-
100,000G
Silver Pirate

Artillery Soldier Percis
2015/03/19
-
Past Content
Edit
WIP